A well-conceived sales machine is the difference between high achievement and underperforming for every company!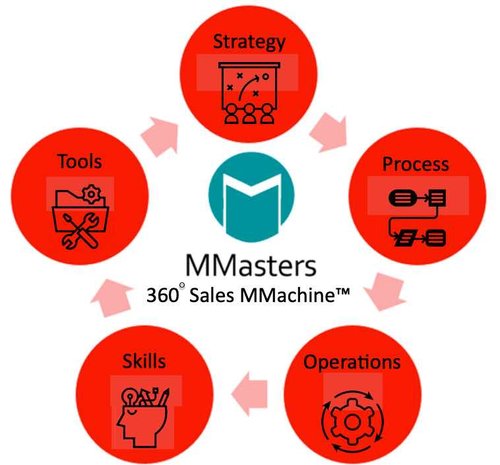 Growing your customer base and revenue profitably is one of the most challenging parts of any business. It's not only about getting socially adept salespeople; it's about how the sales team is put together, the competencies of the leadership & sales team members, and how the effort is supported by using metrics to guide the sales strategy, process, operations and tools implemented. It's as much about science, metrics, and organizational foundation as it is about the art of the sale
Sales Strategy
Transactional to Strategic based on the Business
Direct and Indirect Sales Channels
Aligned with Go-to-Market for Lead Gen
In Sync with Marketing & Client's Business Goals
Custom-designed to Make Selling, Sales Management, and Sales Forecasting a Science
Sales Operations
Mapping Sales Process to CRM/SFA
Recommendations on Software Tools
Support for Conferences and Trade Shows
Compensation Plans
Recruit Screening, Skills Assessment, and Interviews
Sales Process
The Right Resource for Need & Budget
Designed to Make Selling, Sales Management, and Forecasting a Science
Tailored to Each Client Using Decades of Real-World Business Experience and Multiple Sales Training Programs
Proprietary and Custom-developed Sales Assets
M Masters has been instrumental in the development of our turn-around strategy. The consultants who worked with us applied their first-hand experience in edtech selling to helping us to better understand the influencer and buyer persona in our markets, how and what to message to them, how to position upcoming product enhancements, and even developed a customized "Segmentation Score Sheet" to help us to prioritize our sales efforts. I wholeheartedly endorse and recommend MMasters to any organization who wants to improve their sales – and who doesn't?"

— Mike Callaghan, Vice President of Sales, Population Health Innovations, Inc.
Established Firms
Are you launching new offerings or opening new markets? Looking for a way to crank up sales? We've done it for others, and will help you, too.
Emerging Companies
You've earned investment capital. You're making hero sales. We'll get you up your growth curve with a scalable, repeatable, and predictable strategy, process, and implementation.
Angels, VCs, and Incubators
You see the potential in your portfolio companies. We'll help them – and you – to realize that potential and accelerate your ROI.